Sir John Arthur 'Jack' Brabham, was born on April 2, 1926, in an Australian town near Sydney. At 18 he joined the Royal Australian Air Force in Adelaide, where he wanted to learn to fly but was instead trained to fill a wartime shortage of flight mechanics. Upon his discharge, in 1946, an uncle in the construction business built him a workshop in Sydney, where Jack opened his own engineering establishment.
Jack's opportunity in motorsport came by a friend. Jack helped him build a new car for a midget race. Jack himself won four consecutive Australian championships and was the 1953 hillclimb champion in a British-built Cooper. In 1955 he met John and Charles Cooper and built a partnership that would propel the tiny Cooper Car Company and 'Black Jack' Brabham into the pages of Formula One history. Lets just take a moment to remember a few of those moments that solidified his legend status:
In 1959 Brabham won the race to win his first championship by pushing car over the line to take fourth and win championship in points. On the final lap Brabham was leading when the engine on his dark green Cooper stopped; the car coasted several hundred yards before coming to a halt. As McLaren and then Maurice Trintignant and Brooks swept past, Brabham climbed out and pushed his car 300-400 yards over the line at Sebring.
In 1966 Brabham won his third championship in the Brabham BT19, a car he made, and to this day Brabham is the only man to win the championship in a car that he designed and built. We covered the BT19 here in our Buick-Rover V8 Conspectus, our first feature. During this then twelfth championship, Brabham was thought 'too old' to be racing in Formula One after celebrating his 40th birthday prior to the Dutch GP. 'Geriatric Jack' Brabham came on to the grid wearing a fake beard and walking with a cane before being helped into his pole position BT19 and taking the win at Zandvoort.
Brabham designed the BT46B 'fan car' which Nikki Lauda used to take the win at the Swedish GP in 1978, his first for Brabham. There was uproar from rival teams, who saw the "fan car" as a threat to their competitiveness. Ecclestone negotiated a deal within FOCA whereby the car would have continued for another three races before Brabham would voluntarily withdraw it. He did so following the Swedish GP and the Commission Sportive Internationale intervened to declare that henceforth fan cars would not be allowed and the car never raced again in Formula One. The car was not considered to have been illegal when it raced however, so the Swedish Grand Prix win stood. The two converted chassis were returned to standard BT46 configuration for the next race.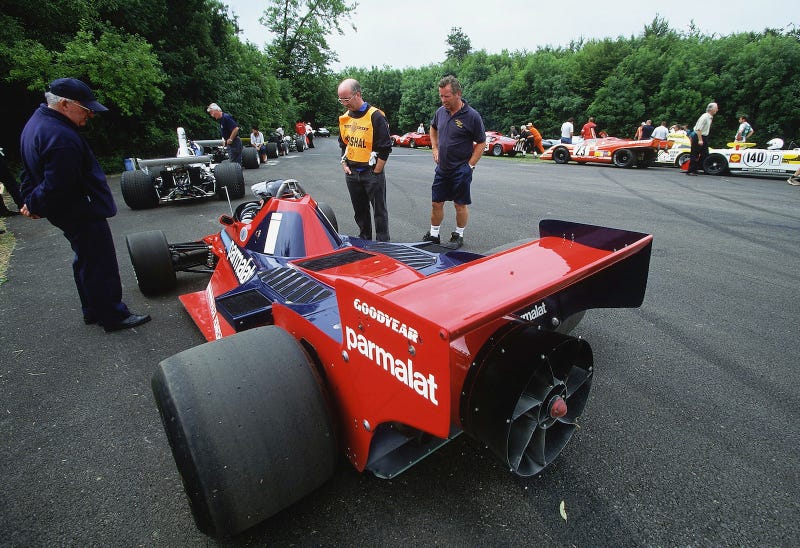 Sadly, Brabham made his last public appearance on 18th May 2014, appearing with the 1967 BT23 race car that he designed and built. He died at his home on the Gold Coast on 19th May 2014, aged 88, following a lengthy battle with liver disease. He was eating breakfast with his wife, Margaret, when he died.